ROAD WARRIOR 36.5" DOWNHILL FREERIDE
The complete includes:
Strong hard wood Canadian maple Ehlers CNC downhill free-ride Deck
High quality black inkjet logo grip tape
Bear 181mm grizzly trucks 
Super Blacks precision bearings
Orangutang stimulus 70mm 80a
1.25" metal fox hardware
1/4" real rubber risers
Max weight: 350lbs
Use: Downhill, free-ride sliding,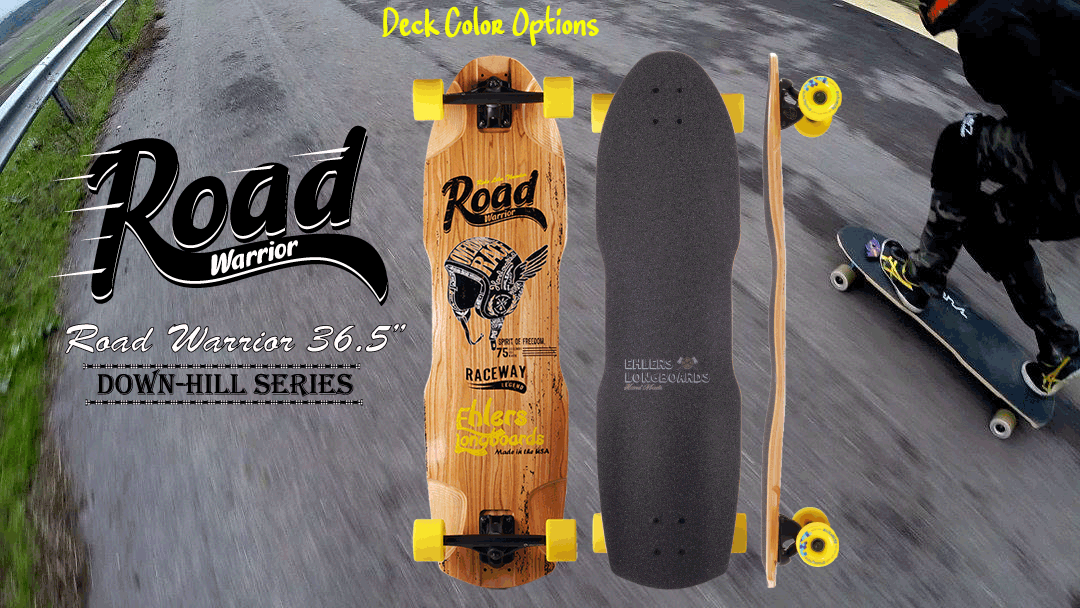 Deck specs and construction:
This is our downhill freeride board with CNC cut wheel wells and adjustable truck mount holes. The large wheel wells are to prevent wheel bite of any kind when reaching top speeds and carving. CNC wheel wells are 3 to 4 plies deep out of 8 plies total and has a radial concave throughout the whole board. The plies are a tad bit thicker for a more solid controlled feel when downhilling and sliding. We would highly recommend this board for those looking for a downhill speed and freeride sliding longboard. When using this board please be safe and wear your helmet.
Length: 36.5"
Width: 10"
Wheel base: 26"
Adjustable wheel mount holes
Plies: 8
CNC wheel well
Flush mounts
Tail W concave
About the trucks:

Bear grizzly generation 5 852 181mm hanger
If you couldn't guess it by the name, these are the 5th version of the Grizzlies cast trucks. They've been modified and tweaked over the years to give you the best possible downhill truck for you money.
About the wheels:

Diameter: 70mm
Width: 49mm
Contact Patch: 42mm
Durometers: 80a, 83a, 86a
Bearing Seat: Offset
Formula: Happy Thane
Core: high-strength, high-stiffness, heat-resistant urethane
Like a shot of adrenaline for a stale economy of shredding, the Orangatang Stimulus is here to breathe new life into your ride.
Combining an offset bearing seat and relatively wide contact patch with stiff, rounded lips results in a product that feels like a blend between a perfectly broken-in race wheel and a driftier freeride wheel. The stone-ground contact patch ensures buttery-smooth slides right out of the box. Equally adept at slides, tricks, dancing and commuting, the Stimulus is the jack of all trades that's captivated our hearts year after year.